Looker13's   1973 TOPPS   Page
Last Update   10  July  2016

Thank you for looking Have a look around and see what you need.  I may move all my cards to here.  Looking to trade these away before I think about selling them. I just have so many and a small place.

The pages are sorted by the year, brand, wants or dupes.  I aquired so many i have no idea of what i picked up

   Here is the list Of the

World Champion A's I need. 


  38 Mike Epstein
  84 Rollie Fingers
155 Sal Bando
201 George Hendrick LCS
203 Gene Tenace WS1
206 Gene Tenace WS4
207 Johnny Odom WS5
208 World Series Game 6 - Red WS6
209 Bert Campaneris WS7
210 1972 World Champions WS
214 Dave Hamilton RC
234 Bill North RC
235 Jim Hunter
255 Reggie Jackson
295 Bert Campaneris
344 Jim Hunter KP
382 Mike Hegan
406 Paul Lindblad
456 Dick Green
483 Dal Maxvill
500 Oakland A's TC
524 Gene Tenace
545 Orlando Cepeda
605 Enos Cabell / Pat Bourque RC
625 Angel Mangual
652 Ted Kubiak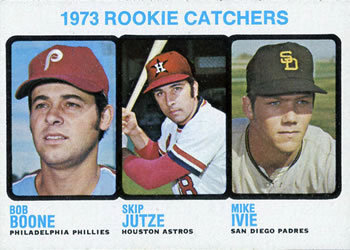 I have no more doubles to trade.

My Wantlist or part of it. Total want list can be found on TCDB

Phillies Needed


    3 Jim Lonborg
    6 Mac Scarce RC
  37 Bill Robinson
  65 Steve Carlton / Luis Tian LL
  66 Steve Carlton / Gaylord P LL
  67 Steve Carlton / Nolan Rya LL
  97 Willie Montanez
119 Larry Bowa
147 Mike Anderson
166 Terry Harmon
189 Greg Luzinski
227 Wayne Twitchell
246 Ken Sanders
271 Tom Hutton
300 Steve Carlton
326 Darrell Brandon
405 Cesar Tovar
424 Denny Doyle
444 Ken Brett
454 Tom Haller
467 Mike Ryan
486a Danny Ozark MG, RC
509 Jim Nash
536 Philadelphia Phillies TC
559 Barry Lersch
590 Deron Johnson
613 Bob Boone / Skip Jutze / RC
615 Ron Cey / John Hilton / M RC
619 Bill Wilson
632 Dick Selma
659 Jose Pagan


1973 Topps 

#613 Bob Boone